Patent attorneys since 2006. Reliable protection for your innovations.
Ruhr IP Patent Office Partnership: We find solutions. Creatively and strategically. With entrepreneurial vision.
As a patent office partnership we are supporting you and your objectives since 2006: with our excellently trained and experienced patent attorneys and our international and professionally diversified team in the office.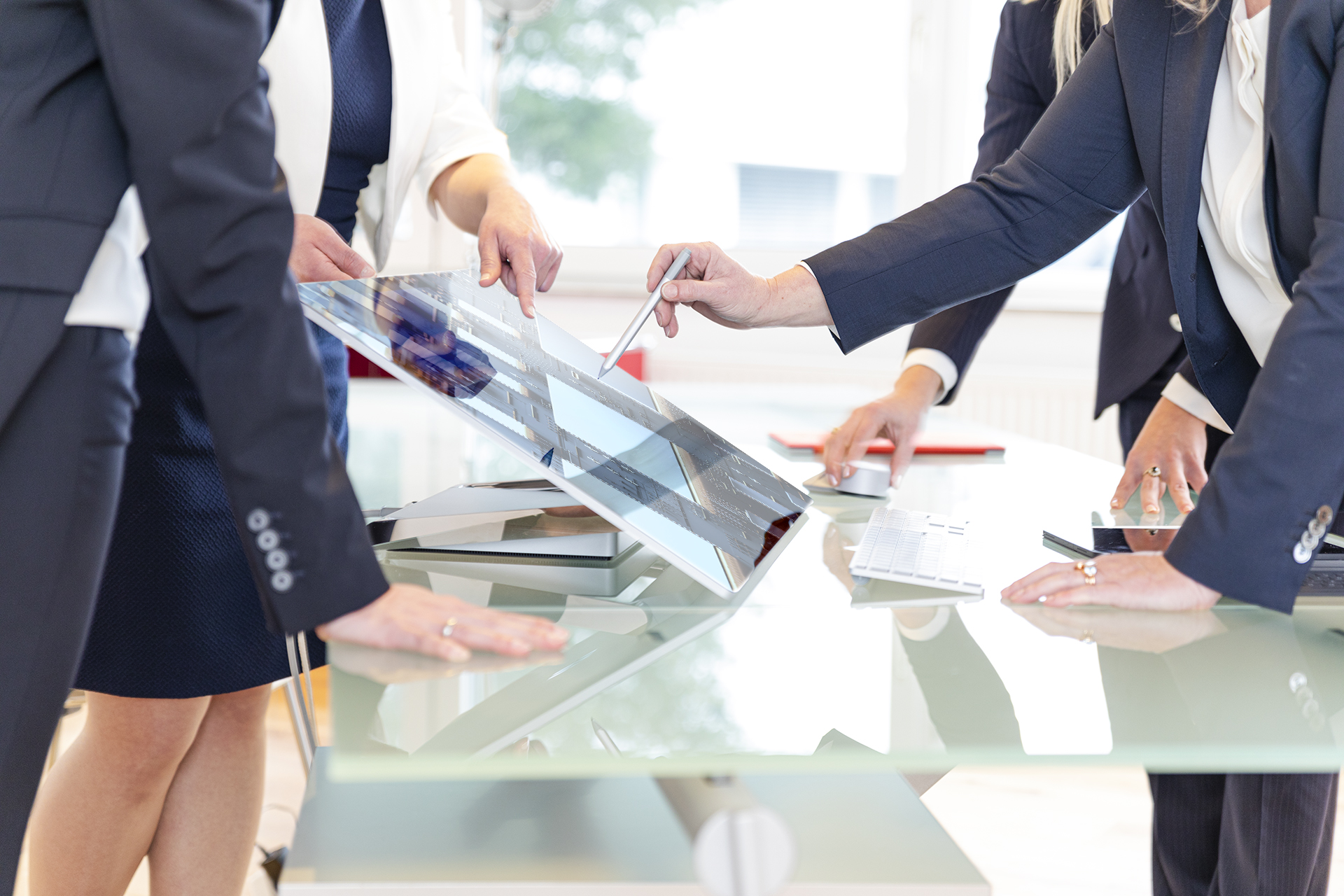 More information
We are living for and protecting digital processes since 2006. Our patents are solidly drafted. In doing so, we benefit from our experience. The law firm's founder began her career 20 years ago as an opponent in the highly competitive pharmaceutical sector. From day one, long-term strategic vision was just as much a part of the job as devising creative solutions of circumvention.
We are working on an interdisciplinary basis with international and highly qualified staff. We know no problems, we create solutions. For our domestic and international clients, we can proudly refer to a rate of over 90 % of granted patents and over 90 % of successful opposition proceedings, both active and passive.
We advise you in German, English, French, Hindi, Russian and Chinese. Benefit from our international network of legal representatives, with whom we look after your property rights and your interests worldwide.
At Ruhr-IP Patent Attorneys, we are working as buddy teams on cross-technology issues since day one. With this strategy, we are sustainably successful for you: in patent grants as well as in opposition proceedings.
The client always being in focus. Our strengths.
We advise our clients with strategic vision, precisely focused on the needs of our clients.
Over the last few years, the needs of clients with regard to the consulting and audit environment of property rights are constantly changing. Flexibility counts more than ever. SMEs in particular, but also international companies, require increasingly comprehensive strategic and commercial advice.
It is precisely amongst the small and medium-sized enterprises, but also special case situations, that a more target-oriented and efficient assistance can be achieved when handled by an integrated, flexible, medium-sized patent law firm. What counts are agile and fast processes, professional competence and a well-connected network in neighbouring areas of expertise. RUHR-IP Patent Office Partnership is able to offer all of that to you.
In the area of large industry, there is an increased demand for focused advice taking into account creative personal strengths of patent attorneys and rapid availability for larger projects. Here again, decision-makers have already recognised: The imperative flexibility is best provided by a dynamic team of patent attorneys.
More information
We advise our clients with entrepreneurial vision so as to ensure your success long-term. Benefit from our know-how.
RUHR-IP Patent Attorneys is a team of patent attorneys, each of whom having own industrial and entrepreneurial experiences in the field of intellectual property, being cohesively organised in close cooperation with related fields of expertise, so as to be able to offer clients the all-compassing advice that meets their needs.
The team of RUHR-IP Patent Attorneys:
considers itself to be your creative partner for optimum solid protection of your innovations, as well as in avoiding infringement of third party property rights.
is specialised in protecting, defending and enforcing your intellectual property rights and has been working in in the field of intellectual property since 2000.
provides individual, case-related and cost-efficient advice to corporations, SMEs and business founders. and
advises and represents domestic and international clients in all technical fields and worldwide on all aspects of intellectual property law. This includes patents and utility models, trademark, design and copyright law, licenses and cases of infringement.
A large part of our activity involves application and opposition proceedings, as well as nullity proceedings with a focus on Europe.
Other essential aspects lie in the area of strategic advice and preparation of so-called freedom-to-operate (FTO) opinions in technology areas, in experience in national and international cases of infringement and in the organisation of such proceedings.
The range of services provided by RUHR-IP Patent Attorneys includes the acquisition, defence and challenge of intellectual property rights. In particular, this includes patent protection, design protection, trademark protection and the associated contract law of licencing and know-how agreements, as well as German employee invention law.
Through our close cooperation with selected law firms and business specialists, we are able to offer our clients complete advice and representation from every point of view.
The main office of RUHR-IP Patent Attorneys is located in the heart of the Ruhr metropolis (Ruhrgebiet), in Essen (NRW). In addition, our firm is represented by three further offices in Germany.
Services
We advise in the field of intellectual property. We file German patent applications, European patent applications and worldwide patent applications on behalf of our clients and file utility models.
We undertake the attack or defence of property rights (opposition, nullity), expert opinions on the validity and infringement of property rights.
We offer strategic advice on property rights. We enforce property rights against third parties in the event of infringements by means of both extrajudicial and judicial proceedings. We monitor property rights on your behalf.
We draft licencing and know-how agreements for you. We carry out property rights monitoring and advise you on German employee invention law. In addition, we offer further services in the field of intellectual property. Contact us!